Congratulations to our students whose photographs received awards from The Scholastic Art Awards of 2000 - NYC Regional competition. The awards ceremony was held at the Brooklyn Museum of Art in February of 2000.
Amos Frazer, Jen Ramos, and Stephanie Castro were also selected for awards on the national level. Their work was on display at the Corcoran Gallery of Art in Washington D.C. during the summer of 2000.
Amos Frazer's photograph "Self" was also exhibited in New York City at the Corning Gallery at Steuben in September of 2000, as part of the Celebrating the Creative Spirit of New York City, Highlights of the Scholastic Art Awards 2000 exhibit.
Amos Frazer
Stephanie Castro
Olga Dekalo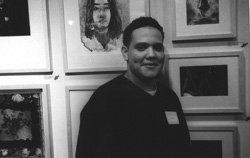 Danny Rosario
Phillip Wilk
Olga Dekalo, Art Teacher Michael Solo, Phillip Wilk
Stephanie Castro, Danny Rosario, Amos Frazer
Art Department Chairman Steve Lasky, Olga Dekalo, Art Teacher Caryn Kreitzer, and Phillip Wilk