Scholastic Art & Writing Awards 2011
Congratulations to our students whose photographs received awards from The Scholastic Art & Writing Awards of 2011 - NYC Regional competition. Our students received three gold awards and three silver awards for their photographs that were submitted to the competition. The awards ceremony and exhibition was held at the Casita Maria Center for Arts and Education in the Bronx, in April of 2011.
*Click on the names to open images
---
P.S. Art 2011
ABOUT THE PROGRAM: The P.S. Art competition was created to acknowledge outstanding student artwork in grades PreK to 12 through an exhibition of student work and a catalogue publication. The New York City Department of Education and Studio in a School convene panels of acclaimed artists, notable arts professionals and respected art educators to serve in two rounds of judging. The final selection of artwork highlights the outstanding work of our students and the exemplary practices of their teachers as it relates to the Blueprint for Teaching and Learning in Visual Arts .
Semi Finalists
Congratulations to Teddy Rungreang and Silvia Sasaki who were selected as semi-finalists in the P.S. Art 2011 competition this year.
Finalist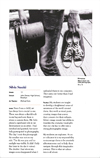 Congratulations to senior Silvia Sasaki whose photograph "Belongings" has been selected from over 800 entries to be in the P.S. Art 2011: Celebrating the Creative Spirit of NYC Kids exhibition. P.S. Art 2011 celebrates the visual arts in New York City's public schools and showcases the tremendous talent of students from every neighborhood across the city. This year the P.S. Art exhibition will be on display at The Metropolitan Museum of Art in the Ruth and Harold D. Uris Center for Education. P.S. Art will be on exhibit at The Metropolitan Museum of Art from June 14th to August 7th and will then move on to the Tweed Court House.