A Tribute To Mark Grichevsky/A Visual Poet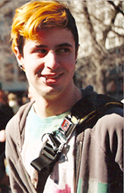 April 15, 1989 - June 2, 2007
Mark found inspiration in places and things that most people would overlook. He lugged a heavy and cumbersome view camera to remote locations in Brooklyn and Staten Island. At the Arthur Kill ship graveyard Mark made poetic images that revealed his design sensibility and his ability to find "magical places" in ignored territories.
Mark was a poet in both the literary sense and also in the visual manner. His visual poems were celebrations of his ability to see, to think, and to design. Mark also wrote poetry. He would, on numerous occasions, greet me as I was entering the photography studio in the early morning with a roll of film in his still cold hands and a notebook of verse that described the scene that he was inspired by.
I will miss Mark greatly and remember him always. Although he is no longer with us in a physical way, his images and his memory will stay with us for a very long time. His images are there for us to admire. They are, like all well made photographs, a way of knowing how someone sees. We will always have Mark's images as a way of knowing how he saw the world while he was with us.
Michael Solo